Are you wondering about the cost of living in Thailand? No problem! During my two months trip backpacking around this amazing country, I recorded all my expenses and gathered all the information here in this article to satisfy your curiosities and help you to plan your trip in according to your budget.
I traveled from Pai (North) to Hat Yai (South) passing for some islands (Koh Phangan and Koh Tao), so I am confident when I tell you that the prices in Thailand can be fairly different depending on the area, the season and your bargain skills.
Consider finally that this price list refers to the cost of living for a low budget trip, but honestly I am super happy with the meals I had (I love thai food), the hostels and bungalows where I slept, the easiness to organize an internal trip in a snap of a finger and the organised activites I took part.
WHAT'S THE CURRENCY IN THAILAND?
The currency in Thailand is the baht (฿) and most of the places here accept only cash, except more expensive restaurants and stores. There are two ways to get the cash you need to buy your avocado smoothie and these are:
Exchanging money in a bank or in a common private money changer. Just check carefully the exchange rates posted outside and find the best deal;
Withdraw money from any ATM available on your way. The downside of doing this, it's that you will be charged for any amount you withdraw with a foreign transaction fee of 220 baht. So the suggestion is to avoid to withdraw a small amount of money and looking for the only Thai ATM which charge a reduced fee of 150 baht, just google on Maps AEON Bank and cross the fingers it's close to you.
THB EXCHANGE RATES
For current exchange rates see www.xe.com.
THE PRICES IN THAILAND
To record all the expenses during my trip I used a super sweet free app called Travel Spend. I really suggest you to download it especially if you are in a long trip and limited budget, it has plenty of features like auto-conversion and graphics usefull to keep under controls your finances! 
Here all the prices divided by kind of expense:
FOOD PRICES
Proper local meal: 50-130B
Large bottle of Beer: 50-100B
Small bottle Water: 3B
Big Bottle of Water: 13-17B
Fruit Smoothie/Juice: 35-70B
Coffee: 50-60B
Pad Tai: 35-60B
Mango Sticky Rice: 50B
Black Sticky Rice: 20B
Chicken Rice: 35B
Falafel: 100B
Fried Chicken: 45B
Squid Fried: 80B
Coconut: 30-50B
Bananas (some): 10B
Pineapple: 20B
Fruit Dragon (some): 50B
Coconut Pancakes: 20B
Donut: 10-15B
Oreo: 30B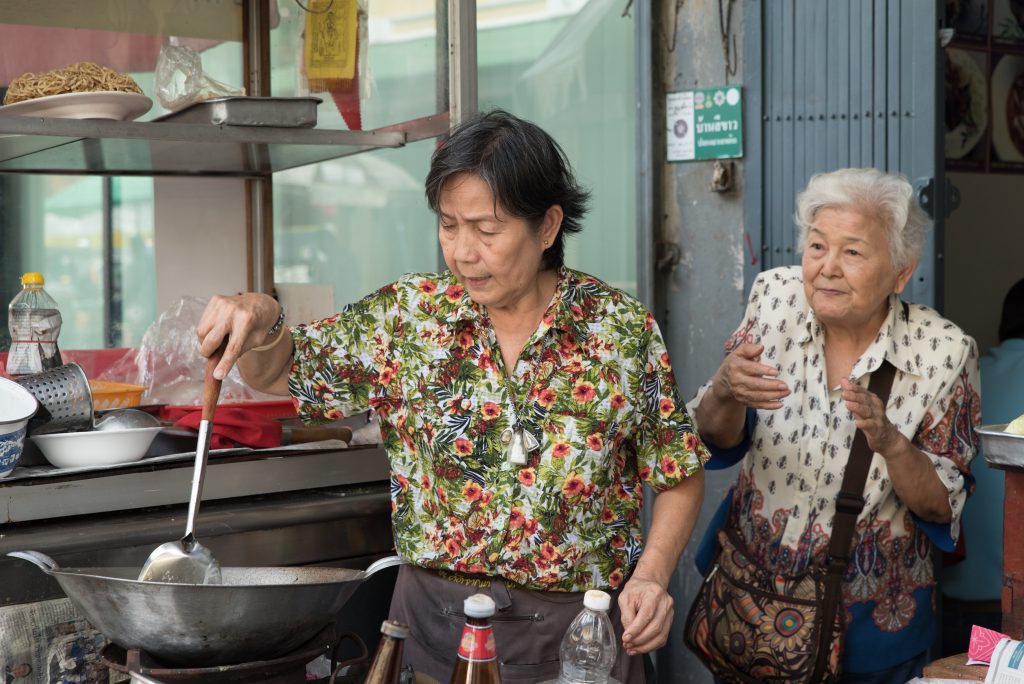 TRANSPORTATION PRICES
Bus ticket Bangkok: 13B
SkyTrain from Bangkok Airport to the city centre: 45B
5km Taxi fare in Bangkok: 85B
Short-trip in Tuk Tuk: 30B
Flight from Bangkok to Chiang Mai: 1266B 
Minivan from Chiang Mai to Pai: 180B
Renting Motorbike (Pai): 100B/day
Minivan from Pai to Chiang Mai: 150B
Train and Ferry from Bangkok to Ko Phangan: 1158B
Renting Motorbike (Ko Phangan): 150B/day
Ferry from Ko Phangan to Ko Tao: 350B
Ferry and Minivan from Ko Tao to Khao Sok National Park: 900B
Minivan from Khao Sok National Park to Krabi: 350B
Minivan from Krabi to Hat Yai: 380B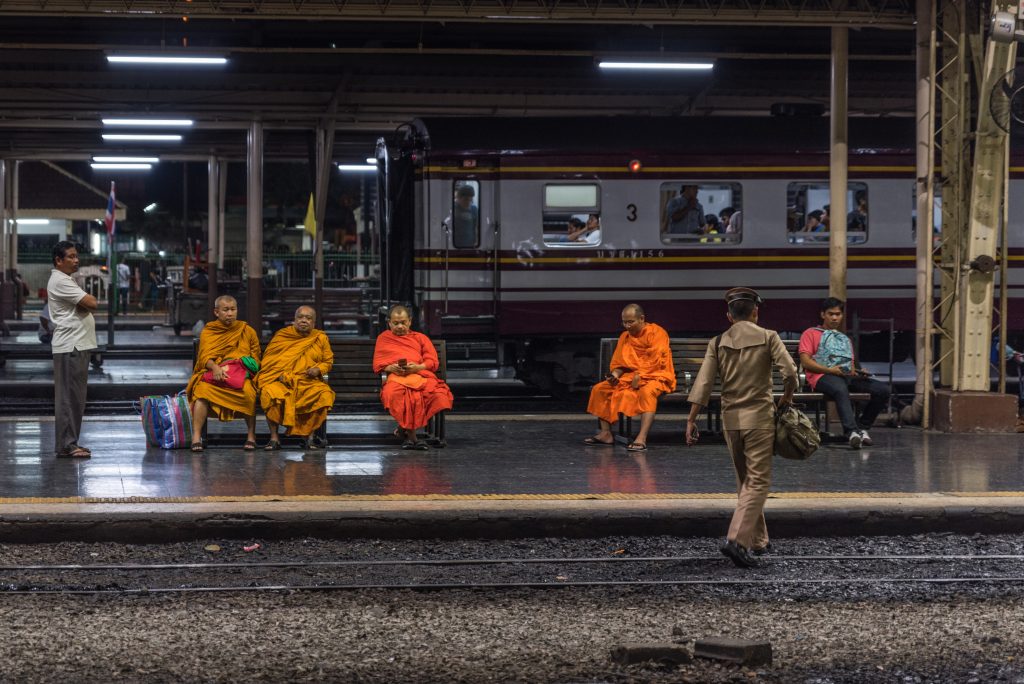 ACTIVITIES PRICES
Entrance Khao Sok National Park: 300B
PADI Open Water certificate: 8300B
Elephant Sanctuary day trip: 1350B
ACCOMODATION PRICES (2 PEOPLE)
Bangkok (Private Room): 428B/night
Chiang Mai (Private Room): 200B/night
Pai (Private Bungalow): 234B/night
Ko Phangan (Private Bungalow): 306B/night
Ko Tao (Private Room): 410B/night
Khao Sok (Tend): 272B/night
Krabi (Private Room): 345B/night
Hat Yai (Private Room): 443B/night 
SERVICES & OTHERS
Laundry: 90-120B
Fee Withdrawal: 150-220B
Tiger Balm: 55B
Notebook: 90B
Flip Flop: 100B
Shorts: 75B
CONCLUSIONS
How much you will spend in Thailand is only up to you! But here there is the chance to have a memorable trip without clear out your wallet and still not missing any flavour, taste and experience.
Travel on a budget allows us, travellers, to extend longer our journey around the world. It's crucial to stay mindful, enjoy at the maximum the experience and give respect to the amazing Thai people who work super hard, cooking delicious meals, driving for hours and host us every time with a smile! 
If you found this article helpful don't forget to subscribe to my newsletter! Thanks for reading and ขอบคุณ (K̄hxbkhuṇ)!